Code: ZE05113005 | Date: 2005-11-30
Refers to St. Augustine's Commentary on Psalm 136(137)
VATICAN CITY, NOV. 30, 2005 (Zenit.org). — Whoever seeks peace and the good of the community with a pure conscience, and keeps alive the desire for the transcendent, will be saved

even if he lacks biblical faith

, says Benedict XVI.

The Pope made this affirmation today at the general audience, commenting on a meditation written by St. Augustine (354-430).
See:
Pope Benedict XVI's general audience, Nov. 30 2005.
The Popes errant philosophy is that ultimately all sincere paths lead to Jesus Christ, even though a person may be worshiping Allah in the Muslim religion, that totally rejects Jesus as the Christ and denies that God has a Son .
.
.
With the Apostle Peter, we confess that "there is salvation in no one else" (Acts 4:12). The DeclarationDominus Iesus, following the lead of the Second Vatican Council, shows us that this confession does not deny salvation to non-Christians, but points to its ultimate source in Christ, in whom man and God are united. God gives light to all in a way which is accommodated to their spiritual and material situation, granting them salvific grace in ways known to himself (Dominus Iesus, VI, nn. 20-21). The Document clarifies essential Christian elements, which do not hinder dialogue but show its bases, because a dialogue without foundations would be destined to degenerate into empty wordiness.

Source:

POPE'S WORDS BEFORE THE "ANGELUS", VATICAN CITY, OCT. 1, 2000
What you just read is pure

New Age teaching,

that is, that there are many paths to God and no one religion is correct. Buddhism, the Bahá'í faith and New Agers like Oprah Winfrey all teach that there are many paths to then light and sincerity is all that really matters. Just as in Proverb 16:25, we read the exact same Scripture in Proverb 14:12, "There is a way which seemeth right unto a man, but the end thereof are the ways of death."
The Bible strongly disagrees with Catholicism.
Proverb 16:25, "There is a way that seemeth right unto a man, but the end thereof are the ways of death."
Apart from the name of Jesus Christ there is NO SALVATION!
John 14:6, "Jesus saith unto him, I am the way, the truth, and the life: no man cometh unto the Father, but by me."
Acts 4:10-12 also confirms this Biblical truth that there can be no salvation apart from faith in Christ...
"Be it known unto you all, and to all the people of Israel, that by the name of Jesus Christ of Nazareth, whom ye crucified, whom God raised from the dead, even by him doth this man stand here before you whole. This is the stone which was set at nought of you builders, which is become the head of the corner. Neither is there salvation in any other:

for there is none other name under heaven given among men, whereby we must be saved." (Acts 4:10-12)
The Bible teaches that all men have a chance to be saved. Titus 2:11: "For the grace of God that bringeth salvation hath appeared to all men." God gives every person some light (truth). if that person receives that truth, then God send them more truth. However, if a man rejects the enlightenment that God gives to him, then God is not obligated to send him more truth.
Romans 1:20 teaches that nature itself manifests His eternal power and Godhead, so that all men are without excuse. Read it for yourself in Romans 1:20, "For the invisible things of him from the creation of the world are clearly seen, being understood by the things that are made, even his eternal power and Godhead; so that they are without excuse."
Pope John Paul II also taught the same lie of Satan, that is, that faith in Jesus Christ is not necessary for salvation . . .
Pope John Paul II again said . . .
3. The Holy Spirit is not only present in other religions through authentic expressions of prayer. "

The Spirit's presence and activity

", as I wrote in the Encyclical Letter Redemptoris missio, "affect not only individuals but also society and history, peoples, cultures and religions" (n. 28).




Normally, "it will be in the sincere

practice of what is good in their own religious traditions

and by

following the dictates of their own conscience that the members of other religions

respond positively to God's invitation and receive salvation in Jesus Christ, even while they do not recognize or acknowledge him as their Saviour (cf. Ad gentes, nn. 3, 9, 11)" (Pontifical Council for Interreligious Dialogue – Congregation for the Evangelization of Peoples, Instruction Dialogue and Proclamation, 19 May 1991, n. 29; L'Osservatore Romano English edition, 1 July 1991, p. III).


Source:

Pope John Paul II, General Audience, Wednesday 9 September 1998
Pope Paul VI taught the same lie of Satan . . .
16. ... Those also can attain to salvation who through no fault of their own

do not know the Gospel of Christ or His Church, yet sincerely seek God and moved by grace strive by their deeds to do His will

as it is known to them through the dictates of conscience.(19*) Nor does Divine Providence deny the helps necessary for salvation to those who, without blame on their part, have not yet arrived at an explicit knowledge of God and with His grace strive to live a good life.


(19*) Cfr. Epist. S.S.C.S. Officii ad Archiep. Boston.: Denz. 3869-72.

Source: Lumen Gentium, (DOGMATIC CONSTITUTION ON THE CHURCH), Pope Paul VI, November 21, 1964, section 16.
Oh listen my friend, God means what He says, warns and promises in the Bible....
2nd Thessalonians 1:8-10, "In flaming fire taking vengeance on them that know not God, and that

obey not the gospel of our Lord Jesus Christ

: Who

shall be punished with everlasting destruction

from the presence of the Lord, and from the glory of his power; When he shall come to be glorified in his saints, and to be admired in all them that believe (because our testimony among you was believed) in that day."
Who are the Catholic popes to go against the Bible and teach that "non-Christians" can go to Heaven without being born-again? Jesus said, YE MUST BE BORN AGAIN (John 3:5-7). It's not an option. Only by faith in the Seed of God's Word concerning the gospel can any man be born anew of the Spirit of God. We are SINNERS and Jesus is the SAVIOR.
Romans 1:16, "For I am not ashamed of the gospel of Christ: for it is the power of God unto salvation

to every one that believeth;

to the Jew first, and also to the Greek."
2nd Timothy 3:5 warns of false prophets who have a form of godliness, but deny the power of the gospel of Jesus Christ. This is EXACTLY what all the popes have done by teaching that Christ-rejecters can go to Heaven. Catholicism is a prisonhouse of religion, a cesspool of iniquity.
The Vatican Contradicts itself Totally
This is a very interesting situation, where the Vatican is proclaiming itself to be the one true church of Christ, and that all non-Roman Catholic denominations "suffer from defects" and "are not Churches in the proper sense," and other religions "are in a gravely deficient situation"; while at the same time they are denying that faith in Jesus Christ is necessary to salvation, teaching Christ-rejecters and non-Catholics can still get to Heaven without any Biblical faith. So which is it? As you can clearly see, the Catholic Church even CONTRADICTS THEMSELVES doctrinally. They can't even stay on the same page with each other.
John 3:16, "

For God so loved the world, that he gave his only begotten Son, that whosoever believeth in him should not perish, but have everlasting life."


John 3:17, "

For God sent not his Son into the world to condemn the world; but that the world through him might be saved."


John 3:18, "

He that believeth on him is not condemned: but he that believeth not is condemned already, because he hath not believed in the name of the only begotten Son of God."




John 8:24,

"I said therefore unto you, that ye shall die in your sins: for if ye believe not that I am he, ye shall die in your sins."
Jesus Himself says in the Bible says that non-Christians cannot be saved unless they BELIEVE, but the Pope says they can be saved without any faith.
Who shall we believe? Jesus or the Pope?
1st John 2:22, "Who is a liar but he that denieth that Jesus is the Christ? He is antichrist, that denieth the Father and the Son."
1st John 2:23, "Whosoever denieth the Son, the same hath not the Father: (but) he that acknowledgeth the Son hath the Father also."
The Bible teaches that liars and antichrists deny the Lord Jesus Christ. The Pope is a
liar and an anti-christ, teaching damnable heresies and lies from the Devil.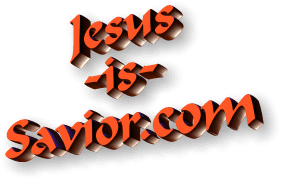 l